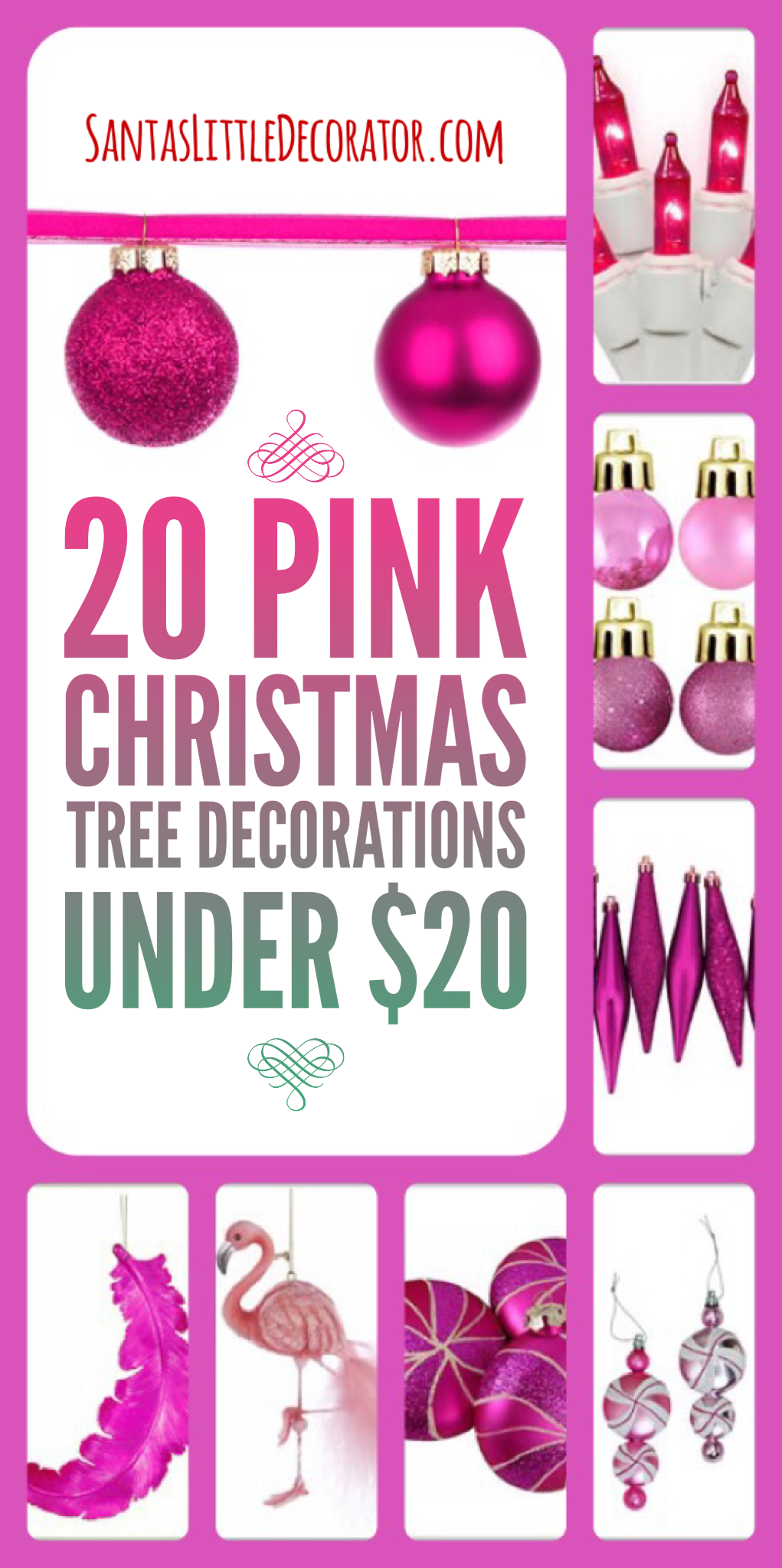 Thinking about bringing pink into your theme this Christmas? Choose just a touch of pink to add a beautiful and warm glow, or to go all out in bold fuchsia.
Whatever your style, we've got you covered with this list of 20 Pink Christmas Tree Decorations, all in pink and all very affordable.
Pink Garlands
While garlands aren't entirely necessary for trimming your Christmas tree, they have an excellent way of bringing color and balance to a tree.
Think you're not a garland fan? While it is a matter of personal taste, keep an open mind! Some of the following picks may surprise you!
This fluffy Tinsel-style Christmas Tree Garland says, "Yes, I can be festive AND pink at the same time!"
Grab a couple for your tree and a couple more for your doorways and windows. Garland is easily one of the best ways to start building color into your Christmas theme.
---
Add a little pizazz with this unique 5′ rounded link chain garland. Your Christmas lights will reflect light off of the chain's glittery fuchsia coating and will make the whole tree sparkle. This effect works most economically as a draped garland on your tree but would look great wrapped around as well.
---
This ribbon is beautiful as your solitary garland. I like it because you can twist it up, tuck it in between branches, or even just lightly wrap your tree to give it a neat spiral look. Unlike the chain garland, it comes in 4-yard lengths, so three or four packages would be more than enough. It also works great for creating bow decorations!
---
This is a delightful garland, and would look amazing as the only garland, or paired with any of the others I have chosen here. It has a variety of textures and accents. Glittery magenta globes and shiny pink boxes intertwined with silver and transparent beads, this string would look fabulous paired with lots of lights.
---
Pink Christmas Tree Lights
New technologies in lighting have created an abundance of different styles available today. From battery-powered to computer controlled, options are endless.
That is unless you're on a budget, and you need something that's just going to work well for a reasonable price.
Below, I've listed two sets of lights that are virtually the same. I chose these pink mini lights because they create the best ambiance – a lovely, warm rosy glow that doesn't feel overpowering or contrived like many new types do. They're also affordable.
Both strings are 33′ in length with 100 bulbs per string. I'd suggest getting two or three strings for a 6-foot tree.
Green wired Christmas tree lights do best for green Christmas trees. It sounds obvious, but it's happened where people have (okay, maybe just me) have gone with the white because white and pink go together, right? They do until you get them home and realize how bad a white wire looks on a green tree.
---
This is the one you want for a pink or white tree. Looks spectacular!
These are also great for white window frames, doorways, and anything else that is light in color.
---
Pink Christmas Ball Ornament Sets
Christmas ball ornaments are very traditional but are entirely a matter of taste. I like to call them the "meat and potatoes" of a strong Christmas tree theme.
The benefit of using them in a color theme is that they usually come in packages with higher quantities for a low price. Play with sizes and textures. Mixing and matching sizes can add playfulness. Uniform sizes can be a lot of fun, but keep the size of your tree in mind when planning. If you like the look of small Christmas ball ornaments, remember that you would need a large number of them for a large tree!
These small ball ornaments are adorable! At only 1.5″ in diameter, these cuties would look fabulous on small to medium-sized trees, or mixed up on a larger tree. They would also make fantastic accents for centerpieces and table settings. This particular set is shatterproof plastic and includes four finishes: shiny, matte, sparkle and sequinned. Each package has 96 ornaments.
---
Medium sized ball ornaments are the most versatile. They work on big trees and smaller ones, though these 3″ ball ornaments might not work well on mini trees. I also like to use this sized of ornament to create window displays by hanging a few on different lengths of fishing line.
---
At 4″ in diameter, these are considered large, but not over-sized. This is the biggest size I use to decorate indoor trees. Likewise, these look their best when displayed on bigger trees. Also, it's a good idea not to place too many of these on your tree, as just a few cleverly-placed balls can create a lot of drama, whereas larger numbers of them will distract and take away from other decorations.
---
Stylish Pink Ornament Sets
So far, we've looked at garland, lights and Christmas ball ornaments. Now, it's time to start adding a little bit of style to your design with a few of these pink Christmas tree decorations. If the ball ornaments were the meat and potatoes, consider these to be like the gravy. Much less is needed, but without them, your theme may look a little dry.
These Disco Ball inspired ornaments bring the glamor to any tree, but if you have a white tree, they're like sparkly candy! And if they're placed on a tree near a sunny window, or next to some Christmas tree lights, they reflect in their color in sweet pink awesomeness reserved only for the most glamorous.
---
With the same colors and finishes as the medium-sized ball ornaments I recommended earlier, these shatterproof final drop style ornaments would look great on your tree, or in other decorative displays. Because these ornaments are 6″long, you don't want too many of them on your tree. One box of eight is probably enough for most trees.
---
One of my favorite choices for this year! I like the pink candy feel, and I love the addition of the sugar-coated iridescent sprinkles. These are 4″ long, and the eyepopping color makes an obvious statement.
---
This package of 12 ball ornaments is another one of my top picks in this post. I love the complimenting high-gloss and semi-gloss finishes. I love the shine. And what about that cute little snowflake design? It makes me want to put on a thick sweater and sit by the fire with a cup of hot cocoa. Preferably in a picturesque lodge surrounded by snow-laden mountains.
---
I love using these for a more of a traditional look – in pink, of course. At 5″ wide, these little poinsettias are a bit smaller than to which one may be typically accustomed. They have a touch of silver glitter which, when set on a green tree, really pops. These poinsettias come in packs of 6.
---
Did you know that Cerise is French for Cherry? It always strikes me as funny when we borrow words from other languages to make something sound more exotic.
These feather ornaments are lovely as accents on a tree or included in several other Christmas decorating projects. They're 6″ long and come in packs of 6.
---
These icicle ornaments aren't the traditional ones we're used to, but I think they're better! I love the peppermint twist accents that spiral down the ornament. These would work very well on a candy-themed tree because it looks like they could be mistaken for candy canes!. These ornaments come in packs of 2.
---
These were staples of my mother's Christmas tree decorating but in white. These mauve pink snowflake decorations have just as many sparkles that I can only imagine will shed all over my hands the way I remember. They may not be ideal for many decorative schemes, but if you have a sentimental streak as I do, you will find room for these guys. Pack of 24 snowflakes with a 4″ width.
---
Twinkle, twinkle little pink star! In the box, you'll find 6 Sculpted 8 Point Star Christmas ornaments, all elegantly 7%prime; long and 5″ wide.. All of these stars are beautiful magenta pink!
They are small enough to be used in simple and trendy DIY table settings or centerpieces. Or, use them for accents on your Christmas tree.
---
Unique/Single Pink Ornaments
Now, I don't want to list too many of these, because there are so many of them available. It's easy to find them priced at less than $20 because they don't come in a set. You won't need my help to find great deals, but I always like to share my fabulous finds.
I want to show you a couple of different Christmas tree ornaments that work well with pink themes. Whether you want to find just one or two embellishments to add to your collection each year, or if you plan on grabbing as many as you can now, just know that these are the ornaments that give your overall theme its character.
This is a lovely example of an ornament that you should have, but never more than one. It has a certain bohemian flair, and if placed strategically, it will catch and reflect Christmas Tree lighting.
This snowflake ornament is a piece that has a lot of character built into it and could become a timeless piece in your collection.
---
And on the lighter side, we have a flamingo! Whether you're a bonafide lover of the tall pink bird, or just want something on your tree that's fun, a flamingo Christmas tree ornament could be your new buddy! I am going to pick up a few of these, but I intend to keep one and give the rest out as gifts. It's a lovely ornament that I think will bring a smile to everyone's face!
---