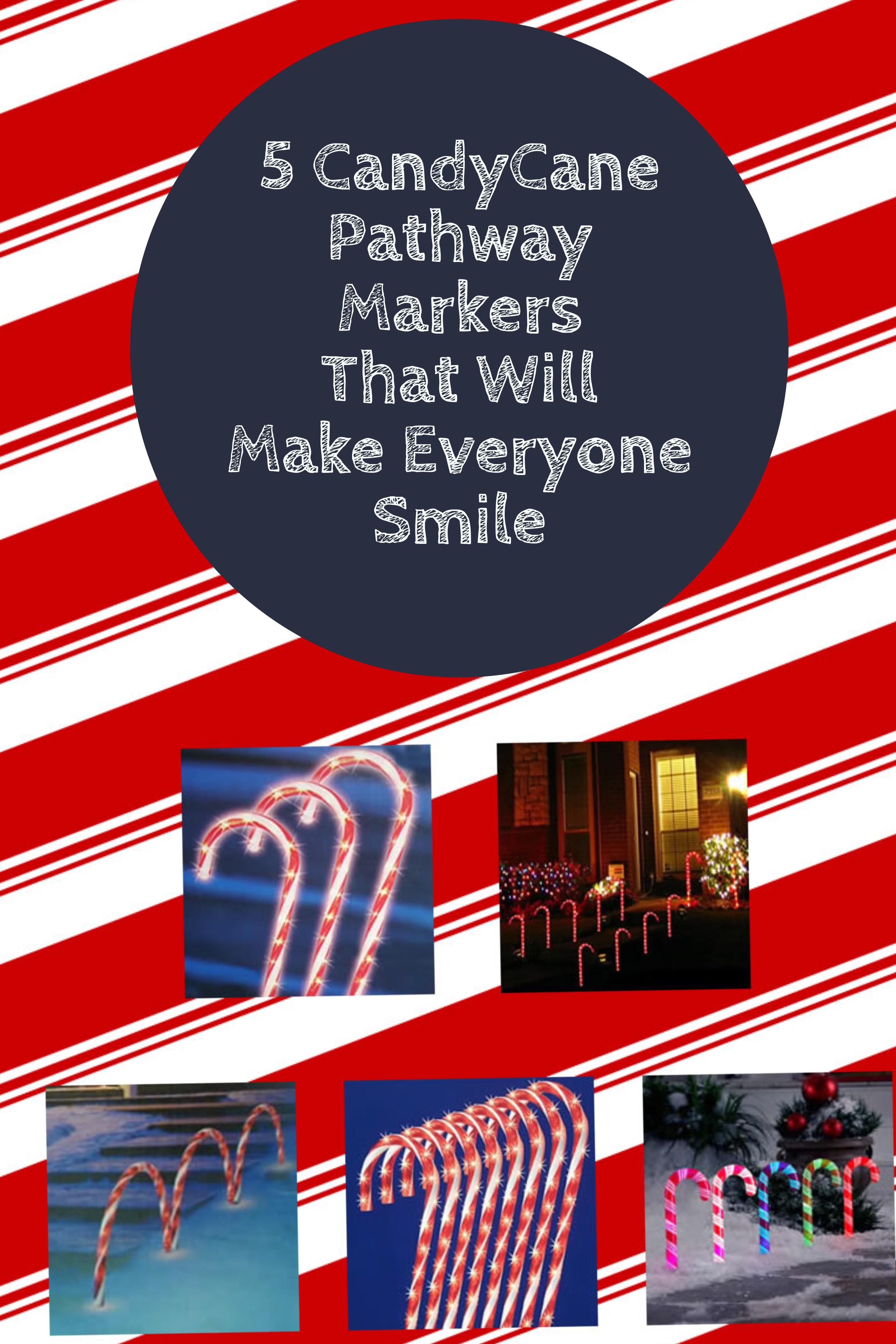 Candy cane pathway markers are an essential piece of an outdoor candy cane or candy land decorating scheme. In my neighborhood, there is one house in particular that has these and every time I drive or walk by, I smile. I love how a sidewalk lined with Candy Cane pathway markers draws my attention up the sidewalk and to the front door. It makes for a lovely scene for both snowy and warm climates.
Here are a few different candy cane pathway marker sets that are available. Each one of these sets arrives pre-lit and attached to a single electrical string. Differences that aren't apparent include the height of the candy canes, the spacing between canes on the line, and the number of canes in each set.
They may be small, but they are a very nice accent! Each candy cane in this pack of 10 stands around 15″ tall and has six bright, white bulbs that are on constantly. An 18′ long white wire attaches all 10 canes in a string. If you want to line both sides of your sidewalk or driveway, you will need more than one string.
---
Compared to the markers above, these nearly twice the size at 28″. Though there are only three in each package, you can easily hook up to 10 strings together end-to-end. Each string is approximately 80″ in length. Each cane has 12 constant-light clear bulbs.
---
These archways are a bit of a departure from the typical candy cane design. Even though all three arches are on the same light string, there is a 25″ length of cord between the 12″ tall arches. Place them beside your sidewalk one after another as shown, or turn each one 90°. You can also place up to 30 arches (10 strings) in an overlapping fashion to create a beautiful border!
---
Now we're getting fancy! This pack of 10 Santa and 10 Candy Cane markers are digitally printed onto weather-resistant poster board and corrugated plastic. The candy canes stand an adorable 12″ tall while both styles of Santa stand about 16″ tall. Easy-to-insert metal stakes make for quick and for easy installation.
I really like this set because they are completely recyclable and are printed with eco-friendly inks. It's manufactured right in Iowa and proudly manufactured with very low pollution emissions. They are not lit, so there isn't any extra energy usage.
---
Don't these candy cane pathway markers look like Holiday-inspired lollipops? This pack of 3 red-and-white pathway markers features 8 entertaining lighting programs. Each stake stands approximately 28″ tall and has sturdy metal stakes. The cored between stakes is 3′ and has a 10′ cord to run to the outlet.